The picture on my banner is the first in this series. She was running around as a zombie/dinosaur.
Then she stopped. I got my camera because...well, she never stops.
I was puzzled, but much like a documentary film maker. I did not want to disturb the natural progression of my subject.
Something never before seen in our house. A quiet toddler. Curious....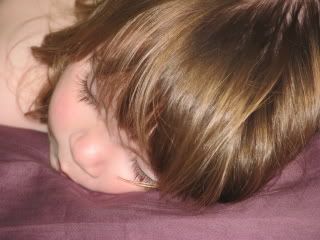 I nudged Travis and said "Oh my god. Are her eyes closed?"
And then she slept.... for 15 minutes. *sigh* Maybe next time I will be able to sleep myself!